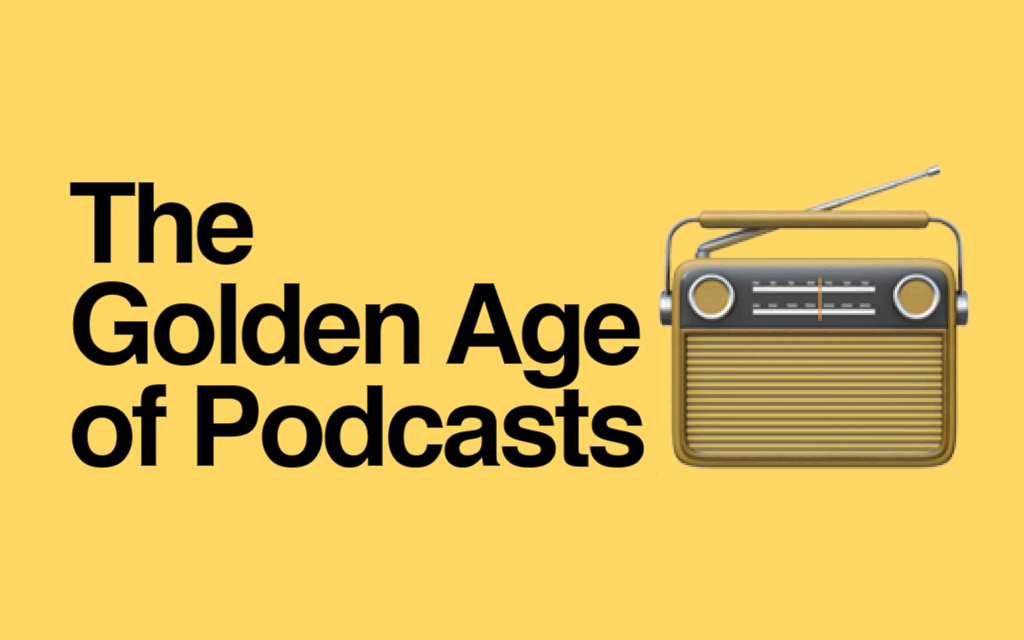 The Golden Age of Podcasting
It's been a busy year in podcasting. With huge companies like Google, Apple, and Spotify (to name a few) majorly endorsing this audio platform, we are witnessing some major developments. As described in the Chartable blog, what we are witnessing is the beginning of the Golden Age of Podcasting.
The following is a summary of The Golden Age of Podcasts blog post from Chartable.
Podcasts have been around since 2004, but since Apple built the Apple Podcasts app onto every phone in 2014, the industry has really taken off. The most recent 2019 studies show that an audience of around 60 million people listens to podcasts a few times a week and 91 million people listen once a week. Not only was there a surge in listenership, but in content. There are now more than 670,000 podcasts in the Apple Podcasts directory. While that may seem like a lot of podcasts already, with Youtube having over 35 million channels, we can confidently see there is plenty more room for tons of podcasts to continue rolling out!
Content, Topics, Listener Habits
There are currently podcasts on every imaginable topic. From education to entertainment, you can find a show on anything you are interested in hearing more about. These topics have also started to shape the habits of podcast listeners. For instance, the rise of daily news shows has people tuning into podcasts on a daily basis. For many people, podcasts are their reliable news source, one they can trust to update them every single day on their morning commute, shower, or right before bed.
On the other hand, another trend that podcasts support is our newly found "binge" culture. Youtube, Netflix, and other streaming services have made us crave content that can be mass consumed. We no longer want to wait until next week, we want instant gratification. The way podcast libraries are stored and accessed makes binging them so easy.
Podcasts have been around for 15 years, so why now?
Well, several reasons combined are responsible for this surge. Both Android and iOS now have native podcast apps, encouraging every user of a smartphone to listen to podcasts. Not only do smartphones make podcast streaming easy, but smartphones are everywhere. We rely so much on these tiny computers, for connection, education, entertainment, concentration, meditation, the list goes on and on. Not only are we constantly plugged in because of our smartphones, but due to all of the digital technology we have. The rise of things like connected cars and smart speakers have our society tuned into audio even more than before. Audio is everywhere!
What's next?
Content will continue to be created and new listeners will continue catching on. As this happens, advertising and monetization of podcasts will also continue to grow. With the marriage of growing technology and our current consumer culture, the possibilities for podcasts are endless. The golden age of podcasts is here, and it is only getting started.