Do you promote your podcast in your email signature?
You should! Here's why:
Visibility. Period.
Podcast marketing is about visibility. In order to make sure the right people know about AND listen to your podcast, they need to see it. More than once! That is why email marketing is so effective. Every time you email a potential listener, it is another chance for you to remind them about your podcast.
Now, depending on your email provider, creating your email signature may look a bit different, but no matter which provider you use, you have the option to save an email signature and can set it to automatically populate on every email you send. Think about it. How many emails do you send per day? If we are really conservative with this number and say its around 10, then that is 300 people who were intimately reminded to listen to your podcast, PER month!
Don't Forget to Link
When including your podcast in your email signature, it is one thing to say "Check out XYZPodcast." Its another to actually put a clickable link right into the signature so the receiver doesn't have to do anything but click on it! One click, and they should be brought to your podcast page on your website or any of the directories in which it is listed.
Be Specific
Being specific with your podcast marketing is always beneficial. So take it a step further with your email signature and provide a description of the latest episode you released with a link to hear it! Let's say you release an episode every two weeks, then at the top of the two weeks, edit your signature to reflect the latest episode details. The more you can tease the content in your episodes, the more listeners will be intrigued to listen. Especially if they are used to seeing your podcast logo, or being told to check it out. Give them a VERY SPECIFIC reason to tune in! Tease Your Content!
Share It with your Co-workers:
Make it easier for your co-workers to do this as well, but sharing your email signature copy with them. Send out reminder emails every so often or each time a new episode comes out, reminding everyone to update their email signature with the podcast info.
Example Email Signature: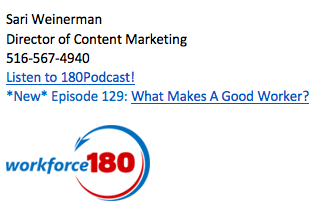 Remember, the best type of marketing is consistent, concise, and personal. That is why your email signature is a perfect place to promote your podcast!
Looking for more podcast marketing tips? Check them out HERE!