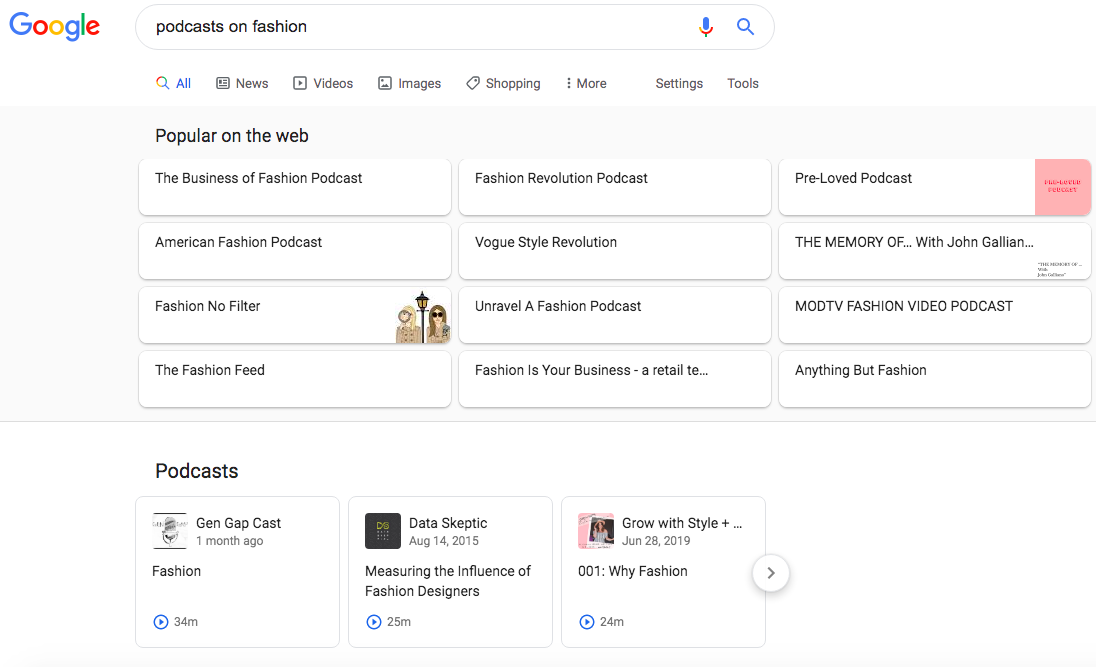 Google continues to prove its dedication to the growth of podcasts. A few months ago, they made it possible to access Podcasts directly as the results of a search query.  You could type the name of *certain* podcasts into the search bar, and the top results would include direct links to listen to some of their recent episodes!  Learn more in our post about it HERE.
But, what if you don't know exactly what you are looking for? What if you don't know of a specific podcast program to search? What if you know the topics you want to learn more about, but want to discover which podcasts are actually talking about it? Well, Google has got your back!
How?
Google has now introduced playable episodes in Search results alongside web pages, news, images, and videos. For instance, if you type in "podcasts on fashion," Google will provide directly playable podcast episodes based on Google's understanding of what's being talked about, right in your search results. This way, you can find even more relevant information about a topic in audio form!
Why?
Google once again shows their support and dedication to the growth and value of podcasts. They have recognized that valuable information is found in this audio form and that people are actively looking for podcasts to help them learn! Eventually, you may not even need the term "podcast" in your search to see podcasts. Google will automatically generate results to your Search that include relevant podcast episodes.
This is especially important for today's podcasters because, with the emergence of millions of podcast programs, organic search for any particular show is very hard to achieve. Word of mouth is still the best way for new listeners to discover a podcast, but this new Google Search function could change that. Also to note; later this year Google plans to extend this feature to Google Assistant, making podcast discovery possible via voice command.
Now, the next time you're looking for a podcast about a specific topic, your search will be easier than ever!